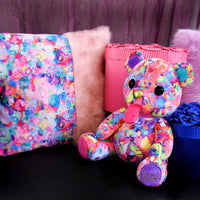 Emotional Bear By Sebastian Masuda Art Special Edition
¥11,000
Dimensions(approx./cm):32 x 25 cm|12.5 x 9.8 in
Cerebrate 30th anniversary of Sebastian Masuda's career as an artist, together with "Emotional Bear" - big bear plush doll from luxury and special art goods line "Sebastian Masuda ART SPECIAL EDITION"!


Round eyes, a bit special gold nose, well-known lovely tongue and big tail... this special bear will add color to your daily life. Also it's best sizing for carrying them with putting your arm under bear's arm too.

The print is Sabastian Masuda's artwork "Colorful Rebellion - Girls More #2 -".
There are super colorful yellow, pink, purple etc mixed together with luxury material like gold.

No matter where you from, how old you are, and what your gender, this bear makes eveyone happy.

There are gold embroidly saying "Sebastian Masuda ART", and also brand tag "Sebastian Masuda ART SPECIAL EDITION" too.

The name "Emotional Bear" came from a girl from abroad's quote when she was having conversation with Sebastian Masuda - "Kawaii and Cute is different. Kawaii is more special and emotional thing!"

For your room interior, gift for your loved ones... this bear will be one of your friend who can share your "Emotional" feelings!
Notice: The pattern will slightly differ in appearance due to the different cuts of the patterned fabric used, making each one extra special and one-of-a-kind!

with Pullip.