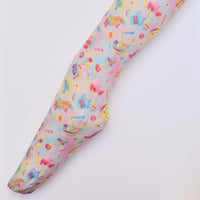 Yummy Yummy in My Tummy 80 Denier Tights
¥3,980
Materials:Nylon, polyurethane
Size: Japanese M-L
Denier: 80
These 'Yummy Yummy in My Tummy' tights will make your mouth water from all the delicious fast food printed on them!

This print is a wild trip through delicious junk food we can eat all around the world!! It's a combination of mouth watering pizzas, sparkling ice cream sundaes, ribbon-wearing tacos, hot dogs that are dogs, and of course, Japan's famous onigiri and ramen treats!

notice : The print is cut on the side. Hand-wash only.