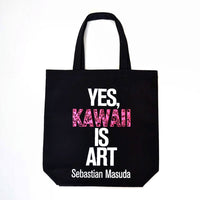 Yes, Kawaii Is Art Tote
¥3,300
Material: 100% cotton
Dimensions(cm ): 37cm × 36cm × 11cm

Original goods from Sebastian Masuda's exhibition 'Yes, Kawaii Is Art' which was held in Tokyo and Osaka are now available in WEB SHOP!
Simple tote with impactful neon pink silk-screen print matches to any kind of coordinate.
Tote bag with a wide depth must be very useful for daily life. Enjoy decorating it with your favorite badges or key chains!
This item is co-produced with the Kyoto Art University ULTRA Factory team, where Sebastian Masuda is also joining.


税込価格:3630円
素材:綿100%
サイズ(cm):37cm × 36cm × 11cm

増田セバスチャンが2021年に東京と大阪で行った個展、『Yes, Kawaii Is Art』のオリジナルグッズがWEB SHOPに登場。
ネオンピンクのシルクスクリーンプリントがインパクト大。マチがたっぷりあって肩掛けもできる形のトートは、いくつあっても困りません。お気に入りのバッヂやキーチェーンで更にデコレーションしてもカワイイですね!
こちらのアイテムは、増田セバスチャンが所属する京都芸術大学・ULTRA Factryのチームと共同製作いたしました。