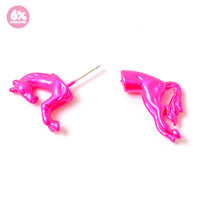 Material:Epoxy resin, alloy
Dimensions(approx.):3 x 1.5 cm | 1.2 x 0.6 in.
Here is the very definition of fabulous. This earring is a 3D effect neon unicorn jumping through your ear!! It is 1.2in. long and 0.6in. wide, and it comes in two colors wisely chosen to reflect our brand, neon pink and neon yellow. Match the two unicorns or choose something entirely different for your other ear for a cool asymmetric look!