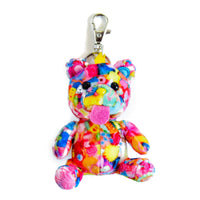 Time After Time Capsule -Bear- #Thank You All Mini Mascot Key chain Charm
¥1,980
Material:Polyester
Dimensions(approx.):7 x 6 x 9 cm | 2.8in. x 2.4in. x 3.5in.

Easily add kawaii Harajuku charm to any look with this mini mascot keychain charm.

From our founder Sebastian Masuda's art project "Time After Time Capsule", this mini version of the popular keychain bear is sporting the "Colorful Rebellion -Thank You All-" pattern with a stuck-out tongue and different colored ears. It's the perfect balance of pop and cute!
Notice: The pattern will slightly differ in appearance due to the different cuts of the patterned fabric used, making each one extra special and one-of-a-kind!