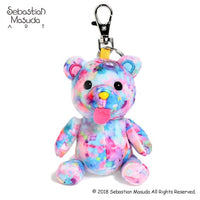 Time After Time Capsule -Bear- #Day Dream Mini Mascot Keychain Charm
¥1,980
Material:Polyester
Dimensions(approx.):7 x 6 x 9 cm | 2.8in. x 2.4in. x 3.5in.
Easily add kawaii Harajuku charm to any look with this mini mascot key chain charm.
From the popular 6%DOKIDOKI Harajuku brand Sebastian Masuda's art project "Time After Time Capsule", this mini version of the key chain teddy bear is sporting the "Colorful Rebellion -Day Dream-" pattern in pink, blue, green, and purple pastels with a stuck-out tongue and different colored ears. It's the perfect balance of cool and cute!
Notice: The pattern will slightly differ in appearance due to the different cuts of the patterned fabric used, making each one extra special and one-of-a-kind!