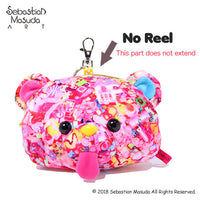 Sebastian Masuda Time After Time Capsule Bear Mascot Pass Case
¥2,800
Material:Polyester
Dimensions(approx.):12 x 17 cm | 4.7in. x 6.7in.
This colorful plush pass case is just so cute there's no way you'll ever want to let it out of your sight! Each comes in the form of a bear's head patterned with Sebastian Masuda's art piece "Colorful Rebellion -Desire-" an eye-catching and bright neon collage featuring everything girls desire including sparkles, candy, toys, and more. Other cute features include a candy piece on its forehead and its tongue sticking out. And it has both a clear slot for your pass card on the back and a zippered pocket to store small necessities.
The case measures a convenient 4.7 x 6.7 and with the attached lobster clasp is perfect for adding a pop of Harajuku style to any bag or belt! 

Notice: The pattern will slightly differ in appearance due to the different cuts of the patterned fabric used, making each one extra special and one-of-a-kind!