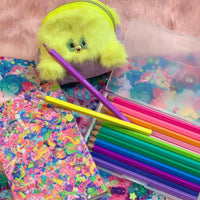 Sebastian Masuda STUDIO COLOR PALETTE【20/500 COLORED PENCILS】
¥4,000
Set information / 20 Colored Pencils, Pencil Case, Information Card with Coloring Book, and Sleeve
Size / (Approx. Sizes) Colored pencils: Length 17.5cm, Pen case: Length 12cm, Width 18.5cm, Height 2cm *Pencil sharpener is required to sharpen thicker pencils.
Material / Colored pencils: Natural wood (North American insense cedar, lumber processing: China), Pen case: Polypropylene, Information card with coloring book, Sleeve: Paper
*Due to the nature of the material, do not place in a place with high humidity, direct sunlight, or high temperature.
(Made in Japan)

20 colors of expression with Sebastian Masuda, infinite possibilities.
A collaboration between 500 colored pencils TOKYO SEEDS and Sebastian Masuda has a limited number of special edition colored pencil sets (20/500 COLORED PENCILS) that will be on sale.

The 20 cute vivid colors are studio colors that are often used when sketching works at Sebastian Masuda's production studio "Lovelies Lab. Design Studio". There are many types of pinks and purples. They are characterized by having vivid and pastel colors that are difficult to express with ordinary colored pencils. Also the Japanese translation of the color name is different from the regular version, and is named with the words and memories of Sebastian Masuda! It comes with an original coloring book and will be delivered in a special package.

What is 20/500 COLORED PENCILS?
Create a new 20-color world by selecting 20 colors from 500 colors and rearranging them side by side. It is an initiative of 20/500 COLORED PENCILS that started with "That's interesting! There seems to be infinite possibilities!" When you receive it, you firstly take it out of the case and line it up on the table. With 20 colors, you will feel super fun. Please enjoy the world of infinite abstractions while looking at the colors and motifs.