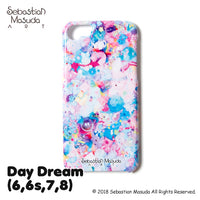 【SALE】Colorful Rebellion iPhone Cover Collection
¥2,520 ¥3,600
Material:Polycarbonate resin
Dimensions(approx.):
6, 6s, 7, 8: 12 x 21.5 cm | 4.7in. x 8.5in.
X: 7.3 x 14.5 cm | 2.9in. x 5.7in.


Protect your iPhone with a case that's as fashionable as you are with these Colorful Rebellion cases. Available in versions to fit the iPhone 6, 6s, 7, 8, and X, they come in five equally colorful, Harajuku-inspired designs by brand founder and artist Sebastian Masuda.

Desire is studded with girls desires including colors, sparkles, sweets, and plushies;
Day Dream and Day Dream Pastel are packed full of things from girls dreams; 
THANK YOU ALL is bursting with color and kawaii magic;
and Emotion -Destroy- features subdued colors and is packed with lots of metallics.

Whichever you choose, there's no cuter way to protect your phone!
What is Colorful Rebellion ?
The concept of the series was trying to show a brand new color using plastic parts and toys of all the already existing colors. It was made to bring back the childhood memories of all the adults that once loved colorful things.