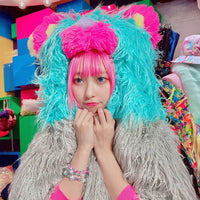 Roomy Monster Cape By KAWAII COMPANY
¥12,000
Material:100% Polyester *Not washable
Size(Approx. Sizes): Total length 100cm, Hem Width 120cm
※For ages 15 years and over
※This product is for indoor use. It cannot be used outdoors.

Yeah, let's be a monster today!
You can transform into a colorful monster just by wearing this fluffy pullover. The inspiration of this monster motif came from the image that Sebastian Masuda had - "A strange monster that I met when I was a kid that became the basis of my heart." This is the perfect item to make people smile on online meetings!