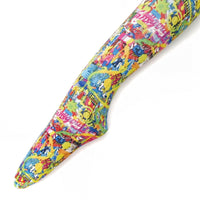 Primal Pop 6%DOKIDOKI Mix 80 Denier Tights
¥3,980
Material:Nylon, polyurethane
Size: Medium, Large
 M-size Hip;85~98cm Height; 150~165cm
 L-size Hop;90~103cm Height; 155~170cm
Denier: 80
From Sebastian Masuda's series "Primal Pop", we launch "Primal Pop 6%DOKIDOKI Mix" as the main theme of this season.

6% DOKIDOKI was born in Harajuku 25 years ago and continues to be loved by many people. In this pattern, while reproducing the innocent and impulsive feeling of childhood, which is the origin of Sebastian's creation, a large amount of motifs that oneself and someone remembers are mixed and painted. A new series of 6% DOKIDOKI that goes back and forth between subculture and pop culture, filled with history and a new future.
These tights are 80 Denier and super comfortable! Highly recommend for the accent of Harajuku style outfits.
notice : The print is cut on the side. Hand-wash only.