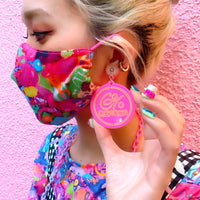 Neon sign Logo Earring
¥1,900
Dimensions(approx.): 5.3 cm x 5.3 cm
Materials: alloy, acrylic
Includes one single earring

You have been already knowing this design, right? Yes, the motif of this earring is a little neon light sign in the entrance of our Harajuku store!
We have 2 colors - shiny & clear Glitter Blue, and super bright neon colored Candy Pink.



With its simple shape, it should match any kind of coordinate!
It's one single earring so you can enjoy wearing it with the other earrings too.
We highly recommend coordinating together with our unicorn or Cupid earrings.

We have 2types - pierced earrings, as well as clip-on earrings. 

税込価格:2090円

どこかで見たことがあるようなデザイン?そう、こちらのイヤリングは、原宿店の入り口に合あるちっちゃなシンボル、ネオンライトの看板がモチーフです!

キラキラのGlitter Blueと、ネオンカラーがまぶしいCandy Pinkの2色をご用意しました。シンプルな形なのでコーデを選ばずに合わせられそう。片耳ごとの販売なので、色々なイヤリングとの組み合わせを楽しむことが出来ます。ユニコーンやキューピッドのイヤリングと組み合わせてつけてもカワイイ!

ピアス(pierced earrings)に加えて、リクエストの多かったイヤリングタイプ(clip-on earrings)もご用意しました。
@rikutama_world