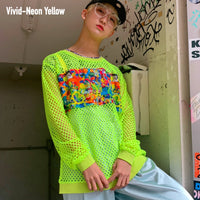 Mesh Top/Primal Pop
¥9,500
Material: 95% Polyester, 5% Polyurethane
Dimensions(cm )
Length; 69cm
Width; 56cm
Shoulder Width; 48cm
Sleeve Length; 66cm

From Sebastian Masuda's series "Primal Pop", we launch "Primal Pop 6%DOKIDOKI Mix" as the main theme of this season.

6% DOKIDOKI was born in Harajuku 25 years ago and continues to be loved by many people. In this pattern, while reproducing the innocent and impulsive feeling of childhood, which is the origin of Sebastian's creation, a large amount of motifs that oneself and someone remembers are mixed and painted. A new series of 6% DOKIDOKI that goes back and forth between subculture and pop culture, filled with history and a new future. Big silhouette design, stretch fish-net, cuff and hem are both using rib. Super comfy and stylish!
Model's height; P→★ 170cm, EMIRY 160cm
Notice: The pattern will slightly differ in appearance due to the different cuts of the patterned fabric used, making each one extra special and one-of-a-kind!