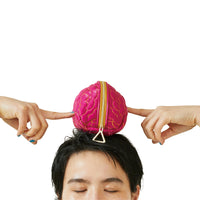 Lovely Brain Poach By Kawaii Company
¥3,900
Put anything you love, and activate your inspiration!
Brain-motif pouch with a wish of everyone to fake care about kawaii inside your heart, as well as inside your body.
Tiny and round shape, with fluffy stitched quilting is definitely inspired from the brain.
It can be opened widely in the middle - in between the left brain and right brain, which makes it easy to check and take out the stuff in it. "Inner galaxy" themed original pattern printed lining makes you happy to open the pouch too!