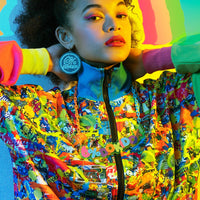 Logo Plate Necklace/Vivid
¥6,900
Charm Size: 5 cm × 17 cm
Chain Length: 67-72 cm
Material: Plastic
Big plate necklace with pop styled 6%DOKIDOKI logo!

Vivid has a clear neon yellow color as the base, and logo with multi color like toys.
Don't forget to check the asymmetry colored chain as well, which you can also adjust the length.

Either coordinating with simple tops and making the necklace stand out, or emphasize a colorful mood together with a colorful top like primal pop should be stunning too!
税込価格:7590円

6%DOKIDOKIのポップなロゴを、大きなプレートのネックレスにしました!

ビビッドはクリアのネオンイエローをベースに、おもちゃみたいなマルチカラ―で文字を並べています。左右で色が違うチェーンにも注目!
チェーン部分にはアジャスターがあり、長さの調節も可能。

シンプルなトップスに合わせてネックレスを目立たせても良いし、Primal Pop柄みたいなカラフルなトップスにオンしてさらにカラフルな気分を強調するのもおススメです。