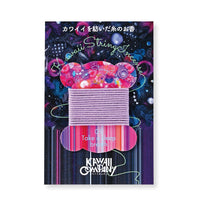 Kawaii String Incense By Kawaii Company
¥1,000
Fragrance item is out now from Kawaii Company!
This neo-classic thread shaped incense is made in Awaji-island with traditional technique continued for 128years.
The flame of incense will go out where we clip, so you can set the burn time as you like.
Enjoy your favorite fragrance more freely on your relax time, as well as on spare moment.

Set contents: 1 roll of thread incense, 1 clip, 1 non-flammable matte
Material: incense - cotton 100%, clip - nickel, non-flammable matte - carbon fiber
Size: thread incense - around 1.5m
Estimate of burn time: around 8cm for 5minutes burn.

ネオクラシックな糸のお香

Kawaii Company から香りのアイテムが登場です!淡路島で128年の技術が香る ネオクラシックな糸のお香。歴史あるお香が進化して糸になりました。
日本有数のお香の名産地、淡路島発の糸香をKAWAII COMPANYからご提案。クリップをはさんだ部分で火が消えるので、燃焼時間を自分の好きな長さに調整して楽しめます。リラックスタイムにはもちろん、気軽に一瞬だけ焚くことができるので、玄関やトイレなどの狭い空間で香らせるのもおすすめです。

税込価格;1100円
セット内容 / 糸香1巻、クリップ1個、不燃マット1枚
素材 / 糸香:綿100%、クリップ:ニッケル、不燃マット:炭素繊維
サイズ / 糸香の長さ約1.5m
※燃焼時間の目安:8cm使用で約5分