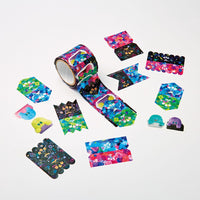 Kawaii Masking Sticker Flakes By Kawaii Company
¥980
Cheers you up from just a glance! Just by placing the KAWAII stickers will uplift your mood. The characters and designs created by KAWAII COMPANY are stickers that can be peeled off one at a time. There are five themes which each have ten different stickers. By combining the stickers in different ways you can enjoy decorating in many ways. Just by placing the stickers on an envelope or a gift bag, they become a colorful item.
■ Contents / 1 flake sticker (10 types, 100 sheets in total)
■ Material / Paper, Acrylic adhesive
■ Size / Length about 4.6cm x Width about 3.3cm, Length about 4cm x Width about 2.8cm, etc. (per sticker) It depends on the design.


カワイイ フレークマスキングステッカー By Kawaii Company

税込価格:1078円
■内容 / フレークステッカー1個(10種全100枚)
■素材 / 紙、アクリル系粘着剤
■サイズ / 縦約4.6cm×横約3.3cm、縦約4cm×横約2.8cmなど(シール1枚あたり)デザインによって異なります。

ふと目が合ったらなんだかハッピー! 貼るだけで元気をもらえるKAWAIIアートステッカー。
KAWAII COMPANYから生まれたキービジュアルやキャラクターを、型抜き済みの1枚ずつはがせるフレークステッカーにしました。5つのテーマごとに、各10種類ずつのデザイン。いろんなシーンに合わせてカワイイデコレーションが簡単に楽しめます。シンプルな封筒やお菓子の包装などにペタッとするだけで、あなただけのカラフルアイテムが完成します 。