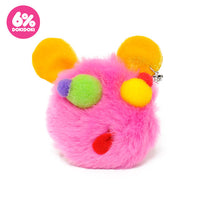 Fluffy Plush Clip & Brooch
¥2,500
Dimensions(approx.):
motif :Nightmare Bear 8 × 9 cm | 2.8 x 3.7in.
Cupid(Heart) 7 × 9.5 | 2.7 × 3.7in.

This fluffy plushy is perfect for a KAWAII DECORA look! __ Pin it to your clothes / bag or clip it to your hair! It's so sweet and unique wearing such a fluffy item as an accessory.

Cupid has a shiny 6%DOKIDOKI tag. 
Nightmare Bear has a twisted expression and a 6%DOKIDOKI solid heart earring.