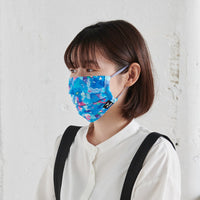 Double gauze mask By KAWAII COMPANY
¥1,600
Material:100% Cotton, Elastic Tape : 74% Nylon, 26% Polyurethane *Hand washable
Size(Approx. Sizes): Length 9cm, Width 17cm
*The pattern will differ depending on the product.

MUST-HAVE item for daily life! The colorful original print of the KAWAII COMPANY makes your mask-look bright and gorgeous! Not only the cute designs, we chose the best material as a daily-use mask. To make less stress on your skin, we used double gauze which will be smoother as you wash. Also there are pleats to fit into every single person's face shape. And we used smooth and elastic material for the asymmetric colored ear loop as well.