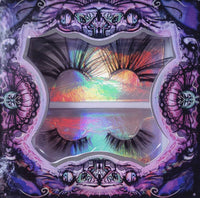 Dollfille/MEGA MOTH Eyelashes
¥5,900
Sorry this product cannot be shipped outside Japan.
Makeup artist `Dollfille` - who has fans all over the world - now launched the very first original eyelashes!

The concept of this MEGA MOTH eyelash is `Designed by artist, designed for artist`. Normal eyelash that we usually use is around 3cm at longest, but this eyelash is 6cm long! But they are still feather-light feel that don't disturb to blink and fits to your eye very well.

We have two colors, black and white.
You can dye with eyeshadow/lip you have on White to create your own lash! After use, please take off colors with makeup remover so that you can turn it back to normal white color and use it again!

reusable eyelash!
If the curl becomes weak, use a low temperature iron or low temperature hair dryer to heat up and make curls again. Please make sure to use the lowest temperature mode.

Pretty packages!
Treasure box-like design with moth from the product name `MEGAMOTH` and big doll eye motif, with a lot of hologram. There are magnets on cap so you can store your eyelash carefully! Also, super kawaii as interior for your room as well.


... Dollfille is U.S.A based makeup artist and model who has fans from all over the world. She calls her own style `Living Doll`. Her art is doing makeup on her body by herself as like how we felt when we played with dolls in childhood.