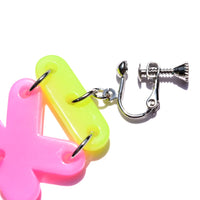 DOKI DOKI Earrings/Vivid
¥3,900
Dimensions(approx.): 7.5cm x 2.5 cm
Materials: alloy, acrylic

Swinging earring with DOKI DOKI pop logo!

Vivid has super colorful neon colors as the main color, and also has clear see through pieces too.
The color is asymmetric so you could choose the color that matches your mood and wear only 1side as well!

Either coordinating with simple tops and making the necklace stand out, or emphasize a colorful mood together with a colorful top like primal pop should be stunning too!

We have 2types - pierced earrings, as well as clip-on earrings.

税込価格:4290円

"DOKIDOKI"のポップなロゴを、ゆらゆら揺れるイヤリングにしました!

ヴィヴィッドは飛び切りカラフルなネオンカラーをメインにミックス。クリア素材が入っているのもポイントです!左右で色が違うので、片方だけを気分に合わせてつけるのもアリですね!

シンプルなコーデに合わせてアクセを目立たせても良いし、Primal Pop柄みたいなカラフルなアイテムに合わせてさらにカラフルな気分を強調するのもおススメです。

ピアスに加えて、リクエストの多かったイヤリングタイプ(Clip-on earrings)もご用意しました。