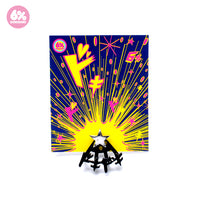 DOcKIng Dokidoki Earring
¥2,200
Material:Alloy
Dimensions(approx.):
2.2 x 2.2 cm | 0.9 x 0.9 in.
Crown your look with this cool 3D earring consists of three parts: A star stud, a plate in the middle saying Dokidoki, and a back .

The way the letters extend out and the four holes the stud can pass through make it even more unique. Dokidoki is the japanese onomatopoeia for the heart beating sound.

Why not choose from neon pink or black and start in docking in yourself? It's so outstanding and unique yet it can fit any outfit!