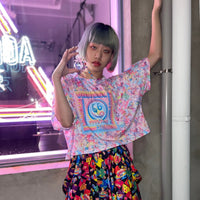 Cropped Big T-shirt/Connect to the Second Summer of Love
¥6,800
Material:100% polyester
Dimensions(cm )
Length; 51cm
Width; 63cm
Sleeve Width; 20.5cm

This season's 6%DOKIDOKI theme is [Connect to the Second Summer of Love]. 6%DOKIDOKI was born in the 90s and we wanted to pay homage to the 90s rave culture with our lineup of new items!

The design on the T-shirt has Rave Event info, whether it's the past or the future is only known to the wearer!

The cropped T-shirt has no shoulder seams and can be worn by itself or combined with a mesh top, tank top, or camisole underneath for an even cuter look.

We recommend this for a 90s style outfit.
税込価格:7480円
素材:ポリエステル100%
平置きサイズ(cm)
総丈; 51cm、身幅; 63cm、袖ぐり幅; 20.5 cm

今期の6%DOKIDOKIのテーマは『Connect to the Second Summer of Love』。
6%DOKIDOKIが誕生した90年代のRave culture に敬意を払い、現代の空気を取り込んだアイテムをラインナップさせています!

Tシャツの真ん中にデザインされたのは、架空の Rave Event への招待状。そこは過去なのか未来なのか、たどり着いた者だけが分かる場所…!

クロップド丈で肩の切り替えが無いデザインのTシャツは、そのまま1枚でサラっと着ても良いし、メッシュトップやタンクトップ・キャミソールを下に重ね着してもカワイイ。

90s テイストのコーデにおすすめです。