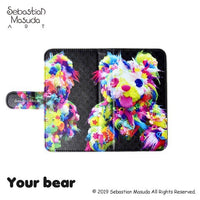 Colorful Rebellion / Your Bear Multi-Use Smartphone Case
¥3,980
Material:Synthetic leather
Dimensions(approx.):15.5 x 8.7 x 1.8 cm | 6.1in. x 3.4in. x 0.7in. (folded size)
Max Phone Dimensions: 8.5 x 15 cm | 3.3in. x 5.9in.
This Colorful Rebellion / Your Bear Multi-Use Smartphone Case available in six vivid and colorful designs by Sebastian Masuda, including Desire (a colorful mix of toys and sweets), Daydream (a popular pink and blue design with a daydream motif), Thank You All (a collaborative design with Shigesato Itoi bursting with color and kawaii magic), Jealousy (an emotion-inspired design), Destroy (a cool design also part of the emotion-inspired design series), and Your Bear (print of a bear made by Sebastian and currently in Young At Art Museum Miami).
They have an adhesive pad that is easy to clean and reusable. There are the ability to slide the phone out, so removing phones for taking photos is not needed. Also there are pockets to put receipts and your ID or other cards. Compatible with phones 3.3in. x 5.9in. or smaller.