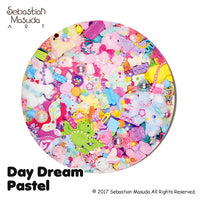 Colorful Rebellion Postcards
¥350
Material:paper
Diameter: 5.8in.
Colorful Rebellion postcards (5.8) featuring the art Day Dream Pastel, Jealousy #2, and Gravity by Sebastian Masuda, artist and founder of our brand.
Each has an adorable round shape with Sebastian's hat and glasses logo on the back.
All of the original art used on these postcards was on display at the solo exhibit YOUR COLORS held at the Roppongi Hills A/D Gallery in Tokyo, Japan.
Day Dream Pastel: Themed after a daydream, it's packed full of things from girl's dreams.



Jealousy #2: One of his emotionally themed works, it brims with the dark essence of jealousy.



Gravity: This eye-catching piece also appears on the front cover of Sebastian Masuda's autobiography, "Kakeizu Cutter".