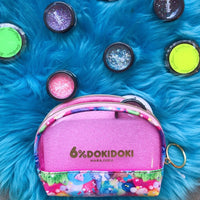 Colorful Rebellion-Pastel Shell Pouch
¥1,500
Material:PVC synthetic leather / PVC 
Dimensions: 15×10×4cm | 5.9×3.9×1.5in.

This pouch featuring our Colorful Rebellion-Pastel print is the perfect size for carrying your makeup. The clear pink glitter part that let you see inside is its charm point. Its roundish shell-like shape makes it easy to take things out of it, and its big zipper end, easy to open.

Notice: The pattern will slightly differ in appearance from those shown because of the unique cuts of fabric used for each one.