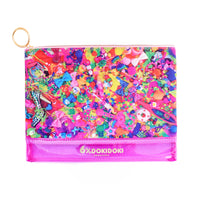 Colorful Rebellion-Original Flat Pouch
¥1,400
Material:PVC synthetic leather / PVC / polyester
Dimensions(cm / in): 24.5×19×1 | 9.6×7.4×0.3

This flat pouch featuring our Colorful Rebellion print can fit many of your makeup, stationery items or else. The bicolor yellow striped and pink glitter back clearness slightly allows us to see what is inside. The big fastener end makes the pouch smooth to open. Its flat and rectangular form is perfect to slide it in your bag.

Notice: The pattern may slightly differ in appearance from those shown because of the unique cuts of fabric used for each one.