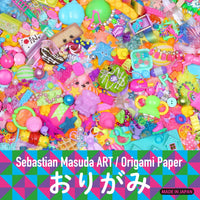 Colorful Rebellion Origami Paper
¥580
Material:Japanese traditional paper
Dimensions(approx.):14.8 x 14.8 cm | 5.8 x 5.8 in.

Have you ever seen more colorful origami paper? Special origami paper set of Sebastian Masuda's artworks, in five eye-catching Colorful Rebellion designs (Thank You All, Daydream, Desire, Jealousy, and Destroy) You of course enjoy folding origami, but also it is useful as colorful background for taking photos, and really popular for souvenir as well.