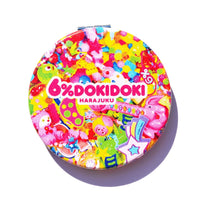 Colorful Rebellion Double Mirror
¥1,000
Material:Synthetic leather
Dimensions(approx.):
7.2 x 7.2 x 1 cm | 2.8in. x 2.8in. x 0.4in.
This compact pocket mirror comes in two different prints from our Colorful Rebellion series. Thanks to its convenient size you can bring it with you everywhere. One of the two mirrors inside is magnifying. It stands still when opened on a table which allows you to redo your makeup hands free !

Notice: The pattern will slightly differ in appearance from those shown because of the unique cuts of fabric used for each one. Basically, they're all one-of-a-kind!