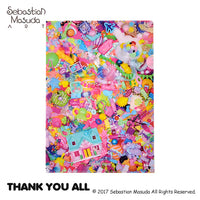 Colorful Rebellion Clear Files
¥580
A4(210cm×297cm/8.3in.×11.7in.)

These Colorful Rebellion clear files (A4 size) featuring the art "Day Dream" "THANK YOU ALL" and "Desire" created by artist and founder of the brand, Sebastian Masuda. The colors of each piece have been faithfully reproduced, yet the transparency of the files still allows you to easily see what documents are stored inside at a glance.

Day Dream:
Loved by countless art aficionados, this piece themed after a daydream is packed full of things from girls dreams and has pops of cool colors like blue, green, and purple amidst pastel pink for a good balance of cuteness.

THANK YOU ALL:
This collaborative piece originally created for a Hobonichi 2017 cover design is brought to life by the ants Shigesato Itoi advised Sebastian Masuda to stud it with. The title is a play on the Japanese for "10 ants which can be loosely pronounced as "Arigato (Thank you)" means thank you in Japanese. You can also own bags, cases, and pins that feature this design as well.

Desire:
This piece is studded with girls' desires including colors, sparkles, sweets, plushies and the like. The original piece was displayed at Sebastian Masuda's first solo show, "Colorful Rebellion -Seventh Nightmare-.in.