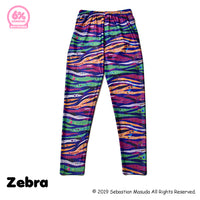 Colorful Rebellion/Animal Boyfriend Leggings
¥7,800
Material:100% polyester
Dimensions(cm / in)
Length 94 / 37
Waist (Elasticated) 62-80 / 24.4-31.5
Rise (Front) 23 / 9.1
Rise (Back) 29 / 11.4
Inseam 68 / 26.8

From our Boyfriend line comes these comfy and bold leggings featuring playful prints from Sebastian Masuda's Colorful Rebellion/Animal series!

Pink Leopard is the animal print for pastel lovers and. Black Leopard is perfect for everyone especially those new to wearing animal prints.

Their elasticity makes them as comfy to wear as a good sweater. Have fun pairing them with a lot of different patterns and prints ! Our personal recommendation is to associate them with a leather top.

Notice: The pattern will slightly differ in appearance due to the different cuts of the patterned fabric used, making each one extra special and one-of-a-kind!