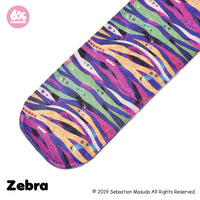 Colorful Rebellion Animal 80 Denier Tights
¥3,980
Material:Nylon, polyurethane
Size: M~L(Medium), L~LL(Large) 
Dimensions(cm / in) 
Length 150-165 / 59-65
Hips 85-98 / 33.5-38.6

Animal print style tights of our Colorful Rebellion design that incorporates different materials and items from around the world is here! Zebra is a bold, colorful design inspired by cybernetics and the fashion/sportswear of the 90's. Pink Leopard is the animal print for pastel lovers and a perfect compliment to lolita-like outfits. Black Leopard is perfect for everyone especially those new to wearing animal prints. Also check out the matching shirts and tank tops !