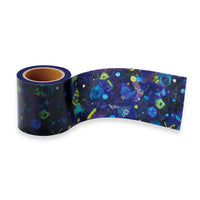 Colorful and Sparkly Kawaii Packing Tape By Kawaii Company
¥700
Make packing sparkly and colorful with beautiful translucency, and artsy kawaii packing tape.
When light shines through it's as though it's beautiful stained glass; artsy KAWAII packing tape released by Kawaii Company. The designs created at Sebastian Masuda's atelier are made into beautiful, translucent KAWAII packing tape. Strong but can also be peeled off when necessary on most smooth flat surfaces. Can be used broadly as it is water repellent and can be used decoratively on items near water.


■ Material / PE cloth, acrylic adhesive
■ Size / Width approx. 4.5cm, Length approx. 4m
* The pattern will differ depending on the product.

アートなカワイイ養生テープ By Kawaii Company

税込価格:770円
■素材 / PEクロス、アクリル系粘着剤
■サイズ / 幅約4.5cm、長さ約4m
※柄の出方は商品により異なります。

光が透けるとステンドグラスのように美しい、アートなKAWAII養生テープがKawaii Companyから登場。
Sebastian Masuda Atelierから生まれたキービジュアルを、透明感が美しくKAWAII養生テープにしました。丈夫だけど必要な分をピリッと手でちぎれて、つるりとした場所なら貼ってはがせる弱粘着仕様のテープ。多少の水ぬれもOKなので水まわりのアイテムもカラフルにデコレーション出来て、使い勝手も抜群です。