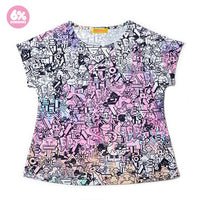 Chibi-Tee Shirt/KON TON
¥6,900
Width: 40 cm, Length: 52 cm, Shoulder width: 42 cm, Sleeve length: 19.5 cm (from collar)
Material: 100% polyester

Kon Ton T-shirt With its stylish gradient color scheme and bold, eye-catching pattern. It's also perfect whether you're pairing it with your bolder looks or just using it as a statement piece in a more casual outfit.

This particular top is the Chibi Tee, and like its name implies, its adorably itty bitty!

The sleeves are short and the overall length is short, as well, so it'll fit in a really cute way that's perfect with skirts.