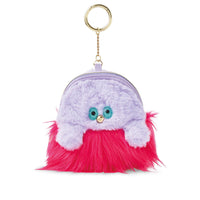 Charmy Monster Poach Friend 2 By KAWAII COMPANY
¥3,300
Charmy is always on your side.

The "Charmy" monster, with fluffy fur, exciting color, and round eyes, has added new friends! If you secretly put it in your bag as a comfort place, you may feel relief every time your eyes meet. Collect as many as you like and enjoy your time with Charmy.
Material / Polyester, synthetic leather, etc.
Size / Height: approx. 12-15 cm, width: approx. 12-14 cm (at maximum), width of bottom gutter: approx. 4.5 cm, length of chain: approx. 5 cm, diameter of carabiner: approx. 3 cm

*Due to the manufacturing process of the product, there may be differences in expression.
カワイイカンパニーチャーミーポーチ2

チャーミーは、いつもあなたの味方です。

ふわふわの毛足、心ときめくカラーリング、つぶらなひとみが魅力の"チャーミー"モンスターに仲間が増えました! 心のよりどころとしてバッグの中にこっそり入れておけば、目が合うたびになんだかほっとするかもしれません。何匹も集めて、チャーミーとの時間を楽しんで。

■税込:3,630円
■素材 / ポリエステル、合成皮革など
■サイズ / 縦約12~15cm、横約12~14cm(最大部)、底まち幅約4.5cm、チェーンの長さ約5cm、カラビナの直径約3cm
※対象年齢6歳以上
※商品の製法上、表情に差異が出る場合があります。