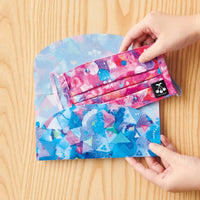 Antibacterial mask case set of 3 By KAWAII COMPANY
¥1,400
Smart way to carry your mask. It's definitely a new essential item.

Set information / 3 Mask Cases (Same pattern)
Material / PET (Interior: Antibacterial Processing)
Size / Approximately 11 cm in length and 20.5 cm in width

Let's carry your masks comfortable and make your daily life HAPPY.
An envelope-type case that's easy to put in and take out. The mask inside doesn't fall off either. The case is thin and light so it's easy to store in your bag. The colorful original print of the KAWAII COMPANY stands out even in a bag and It's easy to find it. The inside is antibacterial processed, so you can keep the mask inside clean. It's a set of 3 that is convenient, great for gifts, and can be used for storing tickets/receipts as well. It's definitely a new essential item.