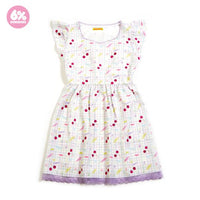 Angel sleeve dress / Gingham-cherry
¥12,800
Material
Polyester
Size Chart
Shoulder width; 34cm
Bust; 90cm
Waist; 68cm
Sleeves; 40cm
Length; 83cm
One piece dress with Gingham-cherry pattern - 6%DOKIDOKI styled cute, sexy, and playful original pattern.

It's a comfortable but special dress which can quickly make a doll-like lovely coordinate immediately! Angel sleeve is cute and also covers the shoulder and upper arm to make your silhouette beautiful. Also when you wear them on top of a long sleeve item, the sleeve can be a good accent for a cute look.

Home base shape cutting of decorate area makes feminine mood. You can wear them with an opening zipper under the armpits. Simple and smart silhouette can make you look like a doll!

sherbet-PASTEL with paste check patterns can make a dreamy and cute image together with pastel items, but also can make chic-girly look together with monotone or classic items.
sweet-BLACK with black check patterns have a dolly mood. They could be used in some formal situations as well!

They are wearable from zippers under armpits.

Customer Snap! Photo via @katiebabydoll

Customer Snap! Photo via @lovelyblasphemy