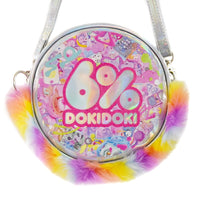 6% Logo Pochette/Primal Pop Pastel
¥5,500
dimensions (cm): 17.5 x 17.5 x 5.5
Approx strap length 72 - 131 cm
leather: no
materials: fabric/pu

Primal Pop Pastel printed super cute shoulder bag!
Look at the holographic silver material and the glitter 6% logo. The bag is framed by fluffy rainbow faux-fur to really make this stand out! The bag features a zip closure and a removable adjustable over the shoulder strap! Perfect for showing your happiness on the go!