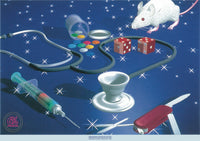 6%DOKIDOKI Reprinted Edition A3 Poster
¥2,000
Size: A3 (29.7×42 cm | 11.6 x 16.5 in)
6%DOKIDOKI's historic 90's designs have been reprinted as posters!
Thick paper is used for the poster, so it is easy to decorate your room by leaning against the wall. The size of A3 is also compact and fits anywhere.
①6%DOKIDOKI GRAND OPNING DM 1995 (Holo)
Reprinted the announcement direct-mail advertising of the grand opening of 6%DOKIDOKI in 1995. As of 2021, the white mouse and syringe objects in the Harajuku store are based on this DM. From its birth in 1995 to the present, the design has been the starting point of the concept of "injecting colorfulness into the times."
Only this design is hologram specification.
②PARCO QUATRO BRANCH OPENING POSTER 1998
A reprint of the opening poster of the "6%DOKIDOKI Parco Quattro Satellite Store" that opened on the first basement floor of Shibuya Parco Quattro in 1998. Designed to match the bright red interior and the store concept "Brat ​taste".
③6%DOKIDOKI DM 1999
A poster reprinting the direct-mail advertising announcing the closing of the "6% DOKIDOKI Parco Quattro store" and the renewal of the Harajuku store. A suspicious and pop legendary design that stands out among the many DMs. Can you read the letters if you look closely?
④6%DOKIDOKI PRODUCT TAG 1999/ DM 2003
This design was born in 1999 as a 6% DOKIDOKI brand tag. At that time, the entire store imitated mushrooms, and the design was the catalyst for giving the visual image of "6% = mushrooms". In 2003, the design was also used as a direct-mail advertising at the 6% DOKIDOKI Sapporo store and Harajuku store.
⑤6%DOKIDOKI PAPER SHOP No.006 1998
A collage of strange packages from around the world has been reprinted from the legendary mail-order catalog "Paper Shop" created for fans who could not visit Harajuku before the spread of the Internet.