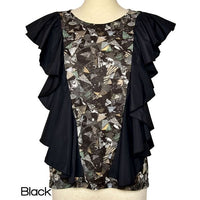 6-D/full print ruffle tops
¥19,800
Material: Poliuretano, Rayon, Poliéster, Nylon, Cupra
Tamanho: Comprimento: 59,3 cm, Comprimento da manga: 11,8 cm, Largura do corpo: 48,6 cm

A tops with vertically designed ruffle frills with 6-D Sebastian Masuda original print textile as main fabric.

Add this item to your coordinate, and you can feel "6-D world" super easily! Also it's casual texture so perfect to use for daily fashion too.

We highly recommend to wear together with same patterned tights!