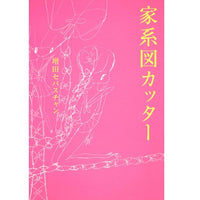 Sebastian Masuda Autobiography 'The Family Tree Cutter'
¥1,238
*This book is all written in Japanese.
An autobiography of Sebastian Masuda, who now is a leading person to spread Kawaii culture to all over the world. An essay of his youth before his success, following how he found a light of hope from the bottom of the world.
Mother, who never even cooked and had no interests in raising children. Father, who secretly handed in divorce registration and had shotgun re-wedding with his mistress. Young sister, who is always emotionally unstable. With this spectacular situated family, his mind was a mess. But it suddenly changed since he knew about Shuji Terayama who was an Japanese avant-garde poet, dramatist, writer, film director, and photographer.
He started to throw himself into the theater arts industry, and opened a small shop in Harajuku with setting "express himself" as a goal - without knowing it was the first step of his journey to impact the world.