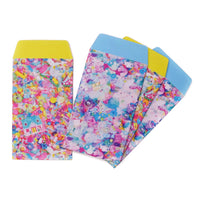 Colorful Rebellion Petit Envelope set of 4
¥580
Dimensions(approx.):10.9×6.5 cm | 4.2 x 2.5 in
Material:Japanese paper

mall envelope made by Colorful Rebellion patterned Washi (Japanese paper). It can be used for mini-gifts, letters, putting coins,,, and so on.
You may write name or a little message on the lid too.



4 envelopes in 1 package (2types x 2each)

Colorful Rebellion
An art series for adults who still has the feelings of love for colorful things from chilidhood . It is aimed to show "brand-new color" with "existing color" - such as colorful plastic parts and bunch of toys. There are a lot of colorful stuff in this world even if you haven't noticed!