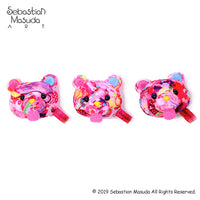 Time After Time Capsule -Bear- #Desire Mascot Clip & Brooch
¥1,480
Material:Polyester
Dimensions(approx.):5.5 x 6 cm | 2.2in. x 2.4in.
This is the third version of the popular clip and brooch teddy bear from Sebastian Masuda's Time After Time Capsule project!
Like before, the teddy bear is sticking out his tongue and has different colored ears, but this time it features Colorful Rebellion - Desire -, an eye-catching and bright neon collage featuring everything girls desire including sparkles, candy, toys, and more. You can wear it two ways: clipped to an item (example: hat or bag) or pinned to your outfit as a brooch. Measures 2.2 x 2.4. If you have the first version already, why not collect this one too?

Notice: -The pattern will slightly differ in appearance due to the different cuts of the patterned fabric used, making each one extra special and one-of-a-kind!
-These are single sale