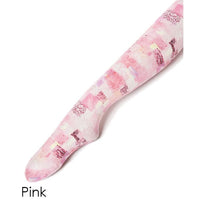 6-D  80 Denier All-over print Tights
¥5,000
Brand: 6-D Sebastian Masuda
Material:Nylon, polyurethane
Size: Japanese M~L
Dimensions(cm / in)
Length 150-165 / 59-65
Hips 85-98 / 33.5-38.6

These Masuda Sebastian original print tights reflect the main energy of 6-D. They are suitable for both casual and party days.

The pink ones give a soft and gorgeous atmosphere.
The black ones are perfect for edgy chic fashion.
notice : The print is cut on the side.
Hand-wash only.