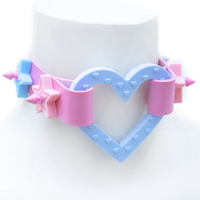 Sweet sweet baby choker By DEVILISH
¥8,700
Cute chokers with large heart and star motifs in pastel colors are now available from Devilish. The motifs are made of rubber material, so they are soft against the skin. We recommend these chokers to accent your pastel-colored coordination!

adjusted to approximately (34cm) - (38cm)

DEVILISH is an independent brand based in Taiwan, which turns fetish motifs like harness/choker into the pop design, color, and material. Their futuristic and 90's taste design matches 6%DOKIDOKI wear very much. They are popular in the Harajuku store as a select brand as well!

税込価格:9,570円
首周り:約34cmー38cmに調整可能

パステルカラーの大きなハート&星モチーフがかわいいチョーカーがDevilishから登場。モチーフはラバー素材なので、肌あたりも優しいデザイン。パステルコーデのアクセントにおススメです!

【DEVILISHとは】
ハーネスやチョーカーなどのフェティッシュなモチーフをPOPなデザイン・カラー・素材に落とし込み、世界中にたくさんのファンを持つ台湾のインディペンデントブランド。
フューチャリスティックで90sテイストも感じられるデザインが6%DOKIDOKIのウェアとのコーディネートにもぴったり。原宿店でもセレクトブランドとして大人気です!