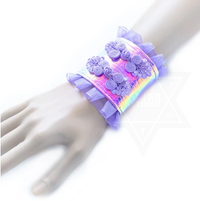 Cyber China Doll Bangle by DEVILISH
¥3,800
fits a 17~21cm wrist.
Shiny lavender china mood bangle by Devilish!
Decorate your daily coord like a cyber china doll.

DEVILISH is an independent brand based in Taiwan, which turns fetish motif like harness/choker into pop design, color, and material. Their futuristic and 90's taste design matches 6%DOKIDOKI wear very much. They are popular in Harajuku store as select brand as well!