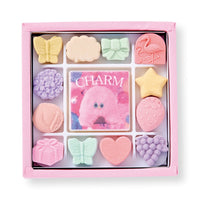 Sweet and Kawaii Wasanbon By Kawaii Company
¥1,200
Wasanbon is a Japanese traditional refined sugar sweet that usually comes with Maccha. The tradition spans 230 years.
When you placed the finished sweet on your tongue and breathed through your nose you could smell the mild aroma of wasanbon sugar.
This wasanbon is produced with the skill and tradition of artisans in the Sanuki region of Kagawa Prefecture. We combined this with the packaging of Charmy, Kawaii Company's mascot, to create three themed assortment boxes. The three designs are "Charm," "Fortune," and "Image," each with a different motif associated with the word.
Try these traditional Japanese sweets that you have not yet encountered!
Contents / 13 pieces (different patterns)
Ingredients / Wasanbon sugar (produced in Kagawa Prefecture), starch, coloring (red 3, red 102, red 106, blue 1, yellow 4)
Box size: approx. 11 x 11 cm, height approx. 2 cm
*We will deliver items with a best-before date of 6 months or more. 
*Cracks and chips may occur during delivery. 
*The color may fade or discolor if exposed to light for an extended period of time. 
*Due to the printing process, colors may blur or become blurred.
KAWAII COMPANY 230年の伝統と歩む 甘くてカワイイ讃岐和三盆
やさしい甘さに「ほっ」 カワイイ気持ちでハッピー

チャーミーに誘われてふたを開ければ、きゅんとときめく和三盆が。職人の技術と伝統が詰まった香川県讃岐(さぬき)地方の和三盆を、「創造力」、「幸運」、「魅力アップ」の想いを込めた3つのテーマの箱に詰め込みました。全39種のそれぞれ異なる願いの意味を持つモチーフから、そのときの気分にぴったりなひと粒を選んで口に入れれば……ほろほろやさしくとろけて、カワイイ気持ちに包まれそう。
■内容量 / 13個入り(柄違い)
■原材料名 / 和三盆糖(香川県製造)、澱粉、着色料(赤3、赤102、赤106、青1、黄4)
■サイズ / 箱サイズ:約11×11cm、高さ約2cm
※賞味期限6ヵ月以上のものをお届けします。 
※お届け時に割れ、欠けが生じる場合があります。 
※長時間光にさらされるなどすると退色・変色する場合があります。 
※プリントの工程上、色にじみやかすれが出ることがあります。