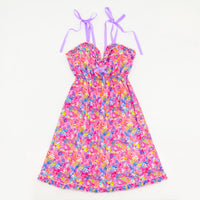 Babydoll Dress / Primal Pop
¥14,800
Material:100% polyester
Dimensions(cm):
Length 75
Under Bust 110
Bust 130
Hem Width 142
Shoulder Strap Length (max) 60
Ribbon Width 1.3

This comfy, cute, and also easy to wear babydoll dress features playful prints from Sebastian Masuda's "Primal Pop" series!

The dress features ribbons on the shoulder straps, which are adjustable in length, and has a lovely silhouette for a doll-like look.
The color comes two, Primal Pop 6%MIX made with Lavender Ribbon, Colorful Riot Pastel made with Neon Pink Ribbon.

Notice: The pattern will slightly differ in appearance due to the different cuts of the patterned fabric used, making each one extra special and one-of-a-kind!
税込価格:16,280円