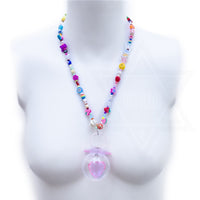 Pacifier Necklace Collabo with DEVILISH
¥6,800
Charm Size: 4.5 × 8.5cm
Chain Length: 58cm
Material:Plastic

This season's 6%DOKIDOKI theme is [Connect to the Second Summer of Love]. 6%DOKIDOKI was born in the 90s and we wanted to pay homage to the 90s rave culture with our lineup of new items!

This necklace is a special collaboration between Devilish and 6%DOKIDOKI. The necklace is made up of colorful kandi-inspired beads and completed with a necessary item for a rave; a pacifier pendant.

Perfect with 6%DOKIDOKI clothing and even cuter combined with a colorful choker or harness by Devilish!
税込価格:7480円
チャームサイズ:4.5×8.5cm
チェーン長さ:58cm
材質:プラスチック

今期の6%DOKIDOKIのテーマは『Connect to the second summer of love』。
6%DOKIDOKIが誕生した90年代のRave culture に敬意を払い、現代の空気を取り込んだアイテムをラインナップさせています!

このスペシャルなネックレスは、Devilishと6%DOKIDOKIの限定コラボレーションデザイン。Raveには欠かせない"おしゃぶり"をペンダントトップに、周りのビーズはKandiをイメージしたカラフルなモチーフでデザインしました。

6%DOKIDOKIのウェアとの相性はもちろん、Devilishのカラフルなチョーカーやハーネスと合わせてもかわいい!