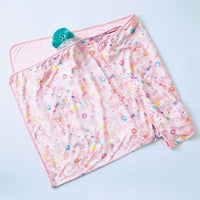 Milky Dream Towel Blanket By Kawaii Company
¥4,200
Towel blanket using materials with different textures on the front and back. It can be used not only as a blanket but also as a bedspread or sofa cover to add a point of interest to your interior.
The key visual "milky dream" used for the overall print has an exquisite color balance that melts in your dream.

Material / Surface: 100% polyester, Reverse side: 80% rayon, 20% polyester, Piping: 100% polyester
Size / Length: approx 90 cm, width: approx 150 cm
*Machine washable
*Patterns may vary depending on the product.

KAWAII COMPANY 夢見る肌心地 すべふわ二層構造タオルケット〈milky dream〉
表と裏で肌触りの違うマテリアルを使用したタオルケット。ブランケットとしての使用はもちろん、ベッドカバーやソファーカバーに使えばインテリアのポイントにもなります。
総柄プリントに使用したキービジュアル〈milky dream〉はとろけるようなカラーバランスが絶妙な作品です。

■税込価格:4620円
■素材 / 表面:ポリエステル100% 裏面:レーヨン80%・ポリエステル20% パイピング:ポリエステル100% 
※洗濯機洗い可
■サイズ / 縦約90cm、横約150cm
※柄の出方は商品により異なります。